Super skinny sweetie Janice Griffith can't help but miss her man Gavin Kane, so she compensates by wearing his clothes and enjoying his scent as she walks around in nothing else but a thong. When Gavin finally does come home, Janice is instantly ready for his loving attention.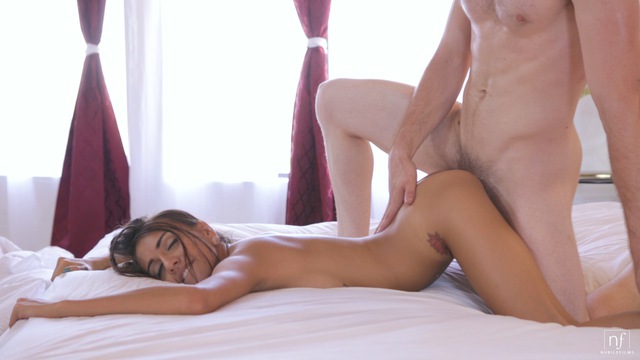 After kissing his way down Janice's belly, Gavin pulls his lover's thong aside and samples the sweetness of her landing strip pussy with his tongue. Liking what he tastes, he settles in for a longer pussy eating session. As Janice grows slick with excitement, Gavin presses his fingers into her tight hole to increase her pleasure.
Once Janice has had her first climax, she can't wait to get Gavin in on the loving. With a huge smile she unsnaps his pants to pull his hardening cock out, and eagerly takes him in her mouth for a wet and wild dick sucking. Her enthusiasm is obvious as she takes him all the way down her throat and then settles in for a fast and furious cock gobbling.
When Gavin can't wait any longer to be inside his woman he finally peels her thong down Janice's long legs and plunges deep into her welcoming warmth. They take their time at first, enjoying the slow friction, but soon Gavin can't help but pick up the pace until he has set a fast, steady rhythm.
Switching things up, Gavin takes Janice's place on the bed and helps to position his woman so that she can ride him in cowgirl and reverse cowgirl style. Pumping her hips like a champion, Janice takes a few exploratory thrusts and then sets a breakneck pace that gets her tits bouncing and her pussy pulsing.
When Janice has had enough of setting the pace, she gets up on her hands and knees and lets her man do the work doggy style. Gavin isn't shy about going hard and fast so that his balls slap against Janice's sensitized clit in a rhythm designed for maximum pleasure.
Knowing that he has fully satisfied his woman's voracious sexual hunger, Gavin finally takes his own pleasure. Pulling out at the last second, he releases his huge load all over Janice soft ass and twat so that she can rub the warm wet love in with her magic fingers.